Development prospects in the segment of services to individual and business customers
Bundled services
Polsat Group has a unique product and services portfolio which includes:
pay TV,
mobile telephony,
data transmission and broadband mobile Internet,
as well as a wide array of complementary services such as:

VOD,
PPV,
Multiroom,
online video services and mobile television.
In line with our strategy, we focus on marketing and sales activities aimed at cross-selling stand-alone products and services to the joined customer bases of Cyfrowy Polsat and Polkomtel and at selling our integrated services offer.
The Polish bundled services market is characterized by a low level of development. According to research conducted by the European Commission, saturation with bundled services in Poland is lower by a half compared to the average saturation in the European Union1. Concurrently, our customers are increasingly interested in bundled services, a trend reflected in excellent sales results of our integrated offer smartDOM.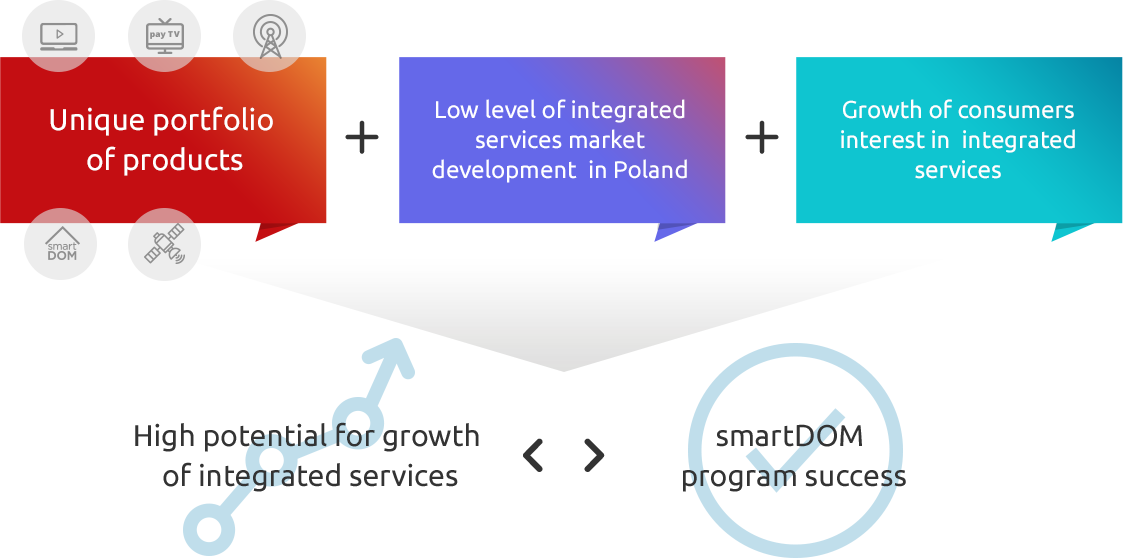 We are convinced that our unique combination of satellite TV and telecommunication services, including in particular LTE mobile broadband Internet access which currently has the biggest coverage footprint and offers the fastest data transfer, will allow us to benefit from the growth potential of the Polish bundled services market. By increasing the number of services sold to each customer we are able to generate growth of average revenue per customer (ARPU) and effectively increase our customers' loyalty.
1 Source: European Comission, Digital Agenda Scoreboard
LTE Internet
According to the results of a survey conducted by UKE in December 20152 , our mobile Internet is the fastest on the market. We are constantly developing our infrastructure in order to increase the coverage of the LTE Internet. Due to its technical characteristics and quality parameters, mobile LTE Internet is successfully replacing fixed-line connections while at the same time responding to increasing consumer needs and growing capabilities offered by the Internet. In addition, it has the advantage of mobility, which is important for big percentage of consumers.
As the necessary radio infrastructure and LTE-enabled devices develop, LTE Internet will revolutionize not only the broadband Internet market but also content distribution. Therefore, the broadband LTE Internet services offered, including data transmission services, will help us to further increase our customer base, both of stand-alone and integrated services.
The fastest mobile Internet on the market, development of the infrastructure and big popularity of mobile devices ensures a big development potential of this area of our operations.
2 Source: uke.gov.pl
Polsat Group as content aggregator and distributor
Currently, the attractive content and the wide range of Cyfrowy Polsat's services are delivered through a variety of reliable distribution channels – via satellite (DTH), within digital terrestrial television (DVB-T), through mobile technologies: 3G and LTE – to all consumer devices, from TV sets to PCs to tablets and smartphones.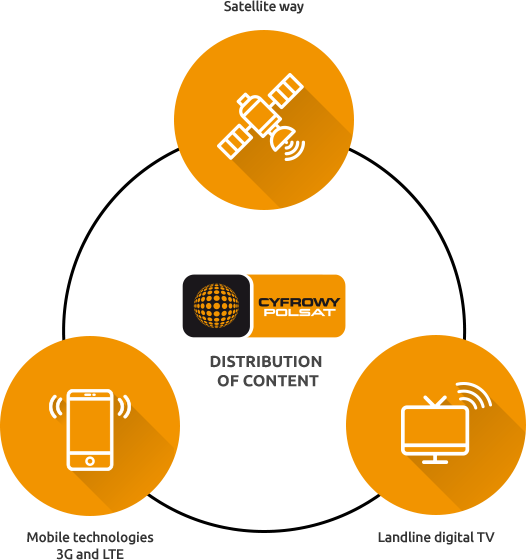 We follow closely the evolution of expectations of our customers and make all efforts to meet their growing needs. Thanks to migration to MPEG-4 compression standard we are able to offer a broader range of programs to our existing and potential customers, with a simultaneous improved signal quality.

With the development of the market and technologies, the choice of devices, for which we can produce and distribute television content, has grown significantly. The number of mobile equipment, like laptops, tablets and smartphones, held by customers increases rapidly. In this group we see the perspective market segment, inter alia for TV services. Furthermore, we see the potential for the market growth in the group of Polish households equipped in more than one TV set as well as in the low ARPU market.
Development prospects in the broadcasting and television production segment
We are one of the two leading private TV groups and the third largest broadcaster in Poland in terms of audience share and advertising market share.
Based on data from SMG Poland (previously SMG Starlink), we estimate that in 2015, we captured a 26% share (y-o-y increase by 0.9 p.p.) of the Polish TV advertising market worth approximately PLN 4 billion.
The audience share of thematic channels continuously grows, together with the progressing fragmentation of the Polish television market. We believe that we can profit from this fragmentation by strengthening our wide portfolio of channels targeted to entire family, extending and strengthening distribution network on cable and satellite platforms including also our segment of services to individual and business customers, within which we manage the largest pay TV platform in Poland. With our presence on all significant satellite platforms and our distribution by cable TV operators we try to further increase the audience share of our thematic channels and increase subscription fee revenue. Currently our thematic channels portfolio includes 32 channels.
Following the global trends of changes in media consumption, dynamic development and increasing popularity of mobile devices, we realize our strategy aiming at the widest distribution of content using the best and latest devices and technologies. That is why we want to monetize our content also through distribution in our internet television IPLA, which is the leader on online video market in Poland both in terms of availability on different devices (computers/laptops, tablets, smartphones, Smart-TVs, set-top-boxes, game consoles) and in terms of content offered. IPLA is also the leader in terms of the number of users and the time spent by one user on watching video content.
In January 2016 we started cooperation with Ringier Axel Springer Polska in the area of distribution of exclusive sports video content produced by TV Polsat sports stations, as well as by IPLA web TV, on Onet portal and by Onet-RASP sports services in order to expand the distribution of our content. We also believe that thanks to possible synergies within the largest integrated media group in Poland, such as purchase of content, distribution, sale and marketing, we are able to strengthen our position on the broadcasting and television production market.