Market opportunities
We believe that Poland is an attractive market for our current and planned products and services for a number of reasons.
Low penetration rate of multi-play services, in particular in scarcely-urbanized areas
According to the European Commission (E-Communications Household Survey, June 2014), in January 2014 the penetration rate of multi-play services (defined as more than one service within the offer of one operator) in Poland amounted to 21% while reaching 46% in the European Union, with a penetration rate in Belgium and the Netherlands even exceeding 70%.
We believe that as a result of the low penetration of integrated services and poor quality of Internet access services offered in scarcely-urbanized areas, Cyfrowy Polsat, with its smartDOM integrated offer, has a chance of becoming the leading provider of high quality multi-play services in Poland.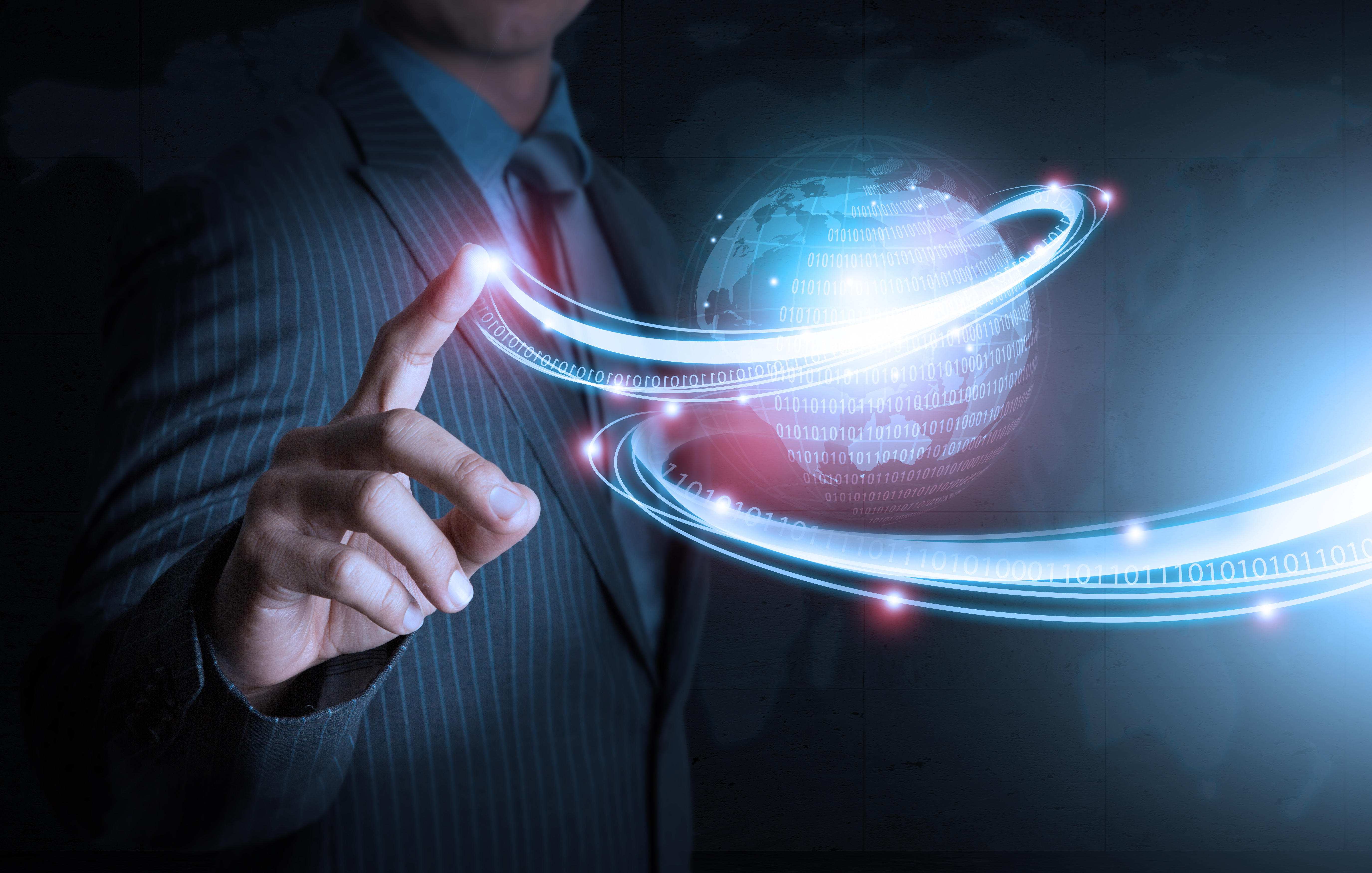 Poor fixed-line Internet coverage offers an opportunity for mobile technologies
Based on the data published by the Office of Electronic Communications (UKE1), in 2014, 90% of households in Poland had access to the Internet, which translated to a population penetration factor of around 31.6%. At the same time, while referring in its report to the Digital Agenda Scoreboard from June 2014, UKE disclosed that fixed-line Internet access penetration was merely 18.4% in Poland, which was the lowest score among the European Union countries where the average penetration was 30.9%, while in the case of selected countries (Denmark, the Netherlands) it exceeded 40%.
The low penetration with fixed-line broadband Internet access services in Poland and the progressing development of mobile technologies make mobile data transmission the fastest growing telecommunication market segment at present.
According to PMR estimates, there were nearly 13.8 million users of broadband Internet access in Poland in 2015, out of which 46% used mobile connections. According to PMR, by 2020 the number of broadband users is expected to grow by ca. 20%, with the number of mobile broadband users growing by approximately 34%2.
The main drivers of growth in the number of mobile Internet users in the long term will include: increased data transfer rates, growing popularity of portable devices (i.e. laptops, smartphones, tablets), as well as relatively low cost of mobile infrastructure covering low urbanized areas.
1 Source:UKE, www.uke.gov.pl Report on the telecommunication market in Poland in 2014
2 Telecommunication market in Poland 2015, Development forecast for the years 2015-2020, October 2015
Growing market for new technologies and equipment and the resultant increase in access to and consumption of audiovisual content
As the market for innovative technologies is growing at a fast pace, the number of mobile devices (notebooks, tablets, smartphones or Smart TV sets) owned by consumers is on the rise as well. This has spurred a sharp increase in access to video content, and hence in video viewership.
According to Ericsson Mobility Report, video content is the biggest and the fastest growing segment of mobile data transmission. It is expected that by 2021 consumption of data related to watching video content will grow by 55% per year on average, reaching ca. 70% of the entire mobile data traffic in 2021.
Consumers expect service providers to offer them the possibility of watching TV on any screen, anywhere and at any time. We perceive this group as a prospective customer segment not only for television services, but also as an opportunity for the monetization of our audiovisual content. At the same time, the above mentioned trend will translate into an increased demand from our customers for data transmission services on mobile devices, which will result in a growing stream of revenues from the sale of these services to our customers.
Growing popularity of smartphones
Replacement of the traditional handsets, used mainly for voice communication, with smartphones designed for communication via data transmission is a universal trend on the mobile telephony market. According to our data, the share of smartphones in the total volume of handsets sold to Plus customers increased from 61% in Q4 2012 to 88% in Q4 2015, thus leading to an increase of the percentage of smartphone users in Plus network from 26% at the end of 2012 to 54% at the end of 2015. At the same time, according to the forecasts of emarketer.com from December 2014, the number of smartphones used in Poland will grow by ca. 64% between 2014 and 2018 (from 12.7 million to 20.8 million units). The continuous growth of popularity of smartphones, along with their technological development, will drive demand for data packs for mobile transmission that are purchased by the users of our network, which in turn should have a positive impact on the level of ARPU per customer.
Development of advertising market in Poland
Demand for advertising air-time is highly correlated with the macro-economic situation. ZenithOptimedia Media House forecasts that the total net TV advertising expenditures will increase by 2.6% in 2016. Given that TV is a highly effective advertising medium, and given the relatively low level of advertising expenditures in Poland as a percentage of GDP and per capita in comparison with other European markets, we believe that there is still substantial growth potential for TV advertising in Poland in the long term. It is worth noting that despite the growing importance of new media, it is forecasted that watching television will remain an attractive and popular activity, primarily thanks to new technical possibilities, including the increasing number of HD channels and VoD, as well as thanks to the growing number of smart-TV's offering access to the Internet.
According to the IAB AdEX report, dynamic growth is demonstrated by the advertising market where the advertising expenditures for the first 9 months of 2015 increased by 17.1% yoy, reaching PLN 2.2 billion. Meanwhile, the expenditures in the video advertising segment, being the direct source of our revenue, increased by 24% and represented 8% of the total expenditures on online advertising (increase by 1 pp. compared to 2014). According to PwC forecasts (Global entertainment and media outlook: 2014-2019), online video advertising in Poland will grow by an average of 19.5% in the years 2014-2019. We believe that thanks to the leading position on the online video market (thanks to IPLA internet television), we may benefit from the growth of this promising advertising market segment.
Growing importance of thematic channels
Over the past several years the increasing importance of thematic TV channels has been the key trend emerging on the TV market in Poland. Thematic channels are TV channels distributed mainly through cable and satellite platforms (in the paid model) as well as via terrestrial multiplexes (free of charge) and which specialize in a particular genre of programming, such as children's programming, films, sports, lifestyle, news or weather. The thematic channels market segment in Poland gained an audience share of 47.4% in 2015 compared to 46.7% in 2014 (NAM, all 16-49, full day, all channels excluding Polsat, TVP1, TVP2, TVN, TV4, TV Puls, TVN7). Broadcasters who offer access to thematic channels and integrated media platforms (such as Cyfrowy Polsat Group) can potentially leverage the niche programming content with targeted advertising, which is more effective in reaching the consumers.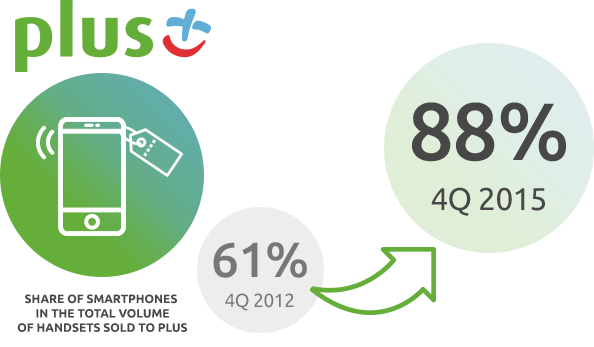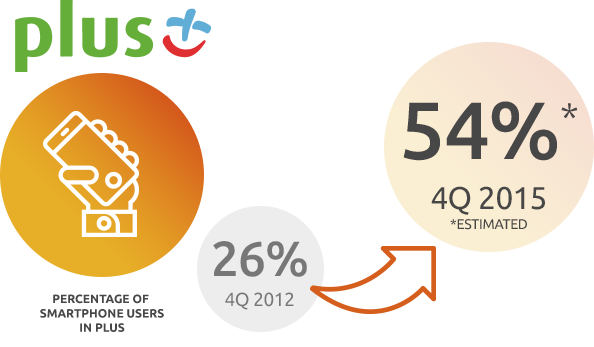 Major market trends
The following are the major market trends which, according to our knowledge, may have significant influence on the Group's development prospects, its revenues and profitability in the near future:
Dynamic growth of non-linear distribution of content, delivered by video on demand and OTT (over-the-top) services
Growing sales of smartTV's which feature Internet access
Development of the programming offer of terrestrial digital TV
Service packaging which involves bundling of media and telecommunication services and also services from other areas, e.g. sale of electricity or financial/banking products
Development of the data transmission market, both in the fixed-line and mobile segments, leading to an increase in the number of data transmission users
Gradual growth of smartphone penetration among mobile network customers/users
Growing demand for data transmission and high speed Internet links, as the outcome of the gradual substitution of fixed-line services by mobile services, as well as of growing popularity of machine-to-machine solutions
pressure on revenue from traditional mobile services as a result of high competition on the mobile market, but also due to the traditional mobile services being replaced by communication which relies on data transmission
pressure on revenue from roaming services due the next stage of regulations of roaming rates on the territory of the European Union
Continuing upturn on the TV advertising market
Further TV market fragmentation (growing audiences of thematic channels and growing advertising revenue)
Growth of expenditures on online advertising